Seeing God's Hand in our Family
Well, here I am again with another reflection. This time no Alaska trip dialogue.  How about I get really personal!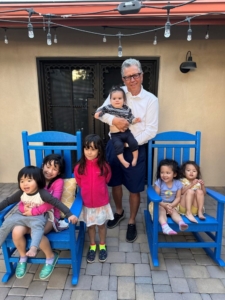 Karen and I just returned from an eight-day trip to Vancouver BC Canada.  Then on to Whistler, Blackcomb skiing, shopping, and babysitting our ever so cute 2-year-old grandson Theo, son of our son Scott and his wife Michelle.  Scott's wife Michelle and Theo are obvious results of God working in my and our lives.
Rather than give an in-depth detail of what we did in Vancouver, I will suffice to say it was a blessing.  No bickering or arguing – just five people going with the flow.
A little more about Scott….my first wife Jane and I adopted Scott in 1982.  He needed open heart surgery and was living in an orphanage in Pusan South Korea.  A lot of God working on that event.  Scott has gone on to be an optometrist in Portland Oregon.  He has two smart and handsome sons, an amazing wife Michelle.  I can't mention how God is working Scott's life without describing his brother Michael and sister Anne.
Michael was also adopted.  Jane was a pediatric nurse and Michael needed some extensive medical procedures, so we moved to the top of the list with Catholic Services in Portland Oregon.  Michael is a good son and lives with his lovely wife, Marisa, and three smart and beautiful daughters.  Michael has gone on to be a Clinical Psychologist.  God is definitely working in Michael's life.  He is a shining example of god's abundant grace.
Anne is our daughter.  We adopted her as a newborn in Portland, Oregon.  Orv Garrison, the counselor at Catholic Services wanted Michael to have a sibling – how kind and a blessing to us.  Anne came to us in a roundabout way of the Vietnam conflict.  Anne has been a gift throughout – a scholar, superb athlete and has gone on to become a vascular surgeon.  Anne and her husband George live in Moon Valley and have three smart and beautiful daughters.
Obviously, we are very proud of these children.  They personally worked very hard on their lives.  You don't have to look far to see God's hand in our family.