Our Sunday Service begins at 10:00 am In-Person and on Facebook Live for those who cannot physically attend.
The scripture reading for this Sunday, Christ the King Sunday, November 20 is Luke 23:35-43. Please read, reflect, and pray with the passage before Sunday. Here is a synopsis of the reading: Jesus is crucified under the title King of the Jews. Please come to Sunday worship prepared to hear the Word of God proclaimed; we invite you to read the scripture passage before service. The music for this Sunday can be found on the top-right hand corner of our website.


Men of PWC, this Saturday, November 19
is your opportunity to grow in your Christian faith and support other men in experiencing Christ through the Brothers' Ministry.
We are meeting from 9:00 am to 10:30 am in Building 4-12. Their study is continuing on the theme of honesty and integrity in the world today.
Breakfast will be served!


The Women's Bible Study is also meeting this Saturday, November 19
from 9:00 am to 10:30 am in the church. Our bible study will be John 4:4-18. We will have a surprise guest speaking. We will be serving a wonderful breakfast. Friends are always welcomed!


Christmas has arrived in the Cross Shop! Ho! Ho! Ho! We have lots of great items for Christmas in our gift shop! Check it out: wind chimes, Nativity scenes, ornaments, coffee mugs, inspirational books, bibles, and a whole lot more! The Cross Shop is open during the week during office hours and on Sunday mornings!


A Day in the Life of
Recovery Café!
Our launch and door opening are just around the corner on December 2! To prepare us all to be a blessing to our members you are invited to A Day in the Life of the Cafe.
Deacon Dennis Paschke, Founder and Executive Director Recovery Cafe Arizona, invites all who have stepped up to volunteer or would like to volunteer to A Day in the Life of the Café this Sunday, November 20 at 11:45 am at Recovery Café: 2992 North Alma School Road, Suite 3, Chandler. We'll share the experience of Recovery Cafe and learn about what sets us apart from others. Each key volunteer area will be explored, and we will learn a little more about addiction and how we can be a place of healing!


PWC Kids: This Sunday November 20: 9:30 am to 10:30 am in Building 4:12. Contact Rachel Freeman for more information about PWC Kids at 480-649-0300 or

[email protected]

. At PWC Kids we break open the Word of God that is proclaimed at Sunday Service in a creative, inspirational way designed so young people can understand the scripture reading. Please Note: PWC Kids is for young people grades K through Five only.


As announced on Sunday, Matthew's Crossing needs our help. They are in desperate need of canned green beans and canned corn for Thanksgiving. If you could purchase green beans and corn this week, it would be very much appreciated! You can drop them off this week in the office or on Sunday in the church. Thank you in advance for your continued generosity!


Recovery Café is opening soon, and we are very excited! We have scheduled our Grand Opening and Fund Raiser for Friday, December 2 from 4:00 pm to 7:00 pm. Tickets are on sale now in the office and the cost is only $50.00. There are a few tickets left. You can purchase them on Sunday before or after service.


Mark your calendar for our Thanksgiving Day Service which will be this coming Thursday, November 24 at 10:00 am in the church.


The church office will be closed on Thursday, November 24 and Friday, November 25 for the Thanksgiving Holiday.


Save the Date! Fr. Dale's next bible study class is coming up soon in December. The dates are Sundays, December 4, 11, & 18 from 8:45 am to 9:30 am in Building 4:12. We will be studying the Book of Isaiah. You are most welcome to invite your friends!


Thank you to all who filled up the shoe boxes and took part in Samaritan's Purse Operation Christmas Child! It was an absolute success! Your kindness and thoughtfulness are overwhelming! 280 boxes were collected.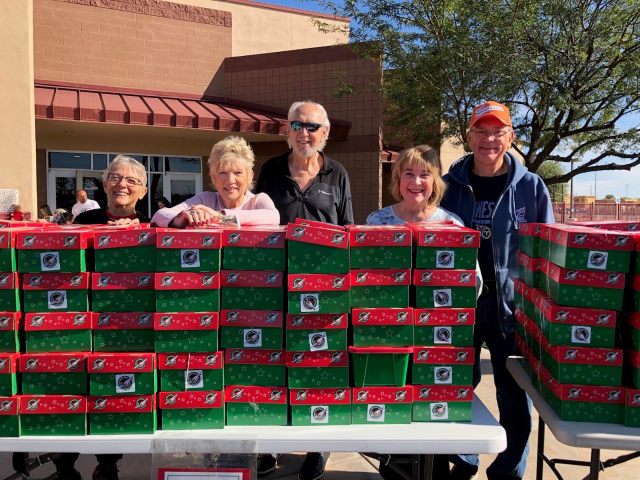 Sunday, November 27 begins The Season of Advent. We invite the PWC community to join our hearts as we prepare for the birth of our Savior. Our new Advent devotional, Waiting Here for You, by pastor and author, Louie Giglio, is a guide filled with hope in the waiting. The book is now available in the Cross Shop for only $10.00.
Pastoral Care Associates Present our Annual Holiday Fundraiser: Believe. Join us for an evening of music, delicious hors d' oeuvres, cake, dancing and a little bingo on Saturday, December 10 from 6:30 pm to 9:00 pm at Recovery Café. Admission is one new unwrapped toy or a gift card for a young person age 2 to 18. Rev, Michael Lessard's books and artwork will be on display for purchase along with a special event painting raffle. Please see Fr. Mike for more information.


Do you need a PWC name tag? You can sign up for a name tag on Sunday morning in the office or email Tami Heinl at 480-649-0300 or

[email protected]

. If you have a PWC name tag, we encourage you to wear your name tag so you will get to know the names of others in our PWC community.


It is important for you to know your tithing allows The Praise and Worship Center to meet the spiritual, emotional, and physical needs of our community and the greater community in the East Valley. From pastoral counseling to grief support, to Bible Study, to Adult Education, to providing food through Matthew's Crossing for families who are economically unstable to PWC Kids and Marriage Enrichment; your consistent giving makes a difference, a big difference! Thank you for your consistent giving!
Here are the different ways you can tithe to PWC:
•

Mail in your gift to: Praise and Worship Center, 2551 N. Arizona Avenue, Chandler, AZ 85225.
•

Sign up for monthly giving with a credit card or voided check. Just call the office at 480-649-0300 or stop by the office.


We look forward to seeing you on Sunday at 10:00 am for worship!


Love,
Fr. Dale and Pastor Mark
Keep up with all your PWC friends on Facebook
Please do not reply to this email; the sending address is not monitored.
Please reply to:

[email protected]