We hope and pray the first week of January and 2022 has been good to you!
We have an exciting series starting at PWC for children ages four through fifth grade called Kicking with Jesus! Created by our own board member, Michelle Lee, through Lee's ATA Martial Arts, Kicking with Jesus is designed for kids to learn self-defense, break boards, kick targets, and praise God! We will get our bodies moving and have fun kicking with Jesus! Here are the dates: Sundays, January 9, 16, 23, 30, and February 6 from 9:30 am to 10:30 am. No registration needed, just show up! You are welcome to bring a friend! At 10:30 am the children will be brought to the church for the rest of our Sunday service. Parents, grandparents, aunts and uncles, get your young people to Kicking With Jesus! Please see the flyer for more information: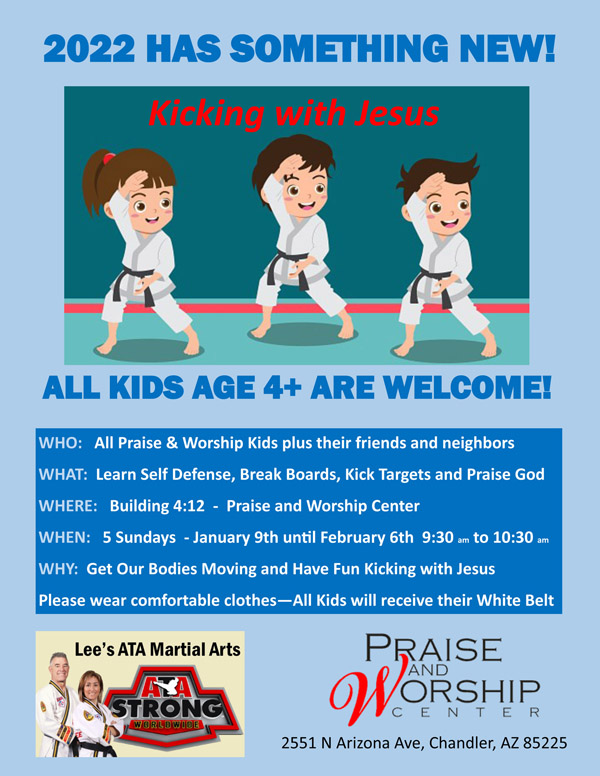 This Sunday, January 9, is the Baptism of the Lord. We look forward to seeing you in person at Sunday Service at 10:00 am. Our scripture reading for this Sunday is Luke 3:15-16, 21-22. Here is a summary of the reading: From John the Baptizer: "I am baptizing you with water, but one mightier than I is coming. I am not worthy to loosen the thongs of his sandals. He will baptize you with the Holy Spirit.


Please read, reflect, and pray with the passage before Sunday. Just as our pastors prepare by reading, studying, and reflecting on Sunday's scripture passage, so should we. The music for this Sunday can be found on the top-right hand corner of our website.
Please Note: The Delta and Omicron variants are affecting those who are both vaccinated and unvaccinated. We have socially distanced the chairs in church and strongly recommend we wear masks. If you do not have a mask, masks are available at the door.


We have a lot going on at PWC from now through May, check out our new spring calendar online:

PWC Spring 2022 Calendar

. If your health permits, we hope you will get more involved at PWC this spring.


Open to all married couples, Marriage Enrichment will meet this Friday, tonight, January 7 from 6:30 pm to 8:00 pm in the church. This will be an excellent opportunity to grow in your relationship with your spouse through the person of Jesus through a presentation and small group discussion questions! Dinner will be served, please RSVP to Pastor Mark at the church office,480-649-0300.


Mark your calendar for The Joyce Bailey Concert on Monday, January 17, Martin Luther King Day at 7:00 pm here in the Church. It promises to be an inspirational evening. You are most welcome to invite your friends! Joyce is also looking for people to join the choir for the concert. Please call the PWC office at 480-649-0300 to sign up!


Do you need a PWC name tag? You can sign up for a name tag on Sunday morning in the office or email Sandy Thiernau at

[email protected]

. If you have a PWC name tag, we encourage you to wear your name tag so you will get to know the names of others in our PWC community.


In the biblical vision, all things are brought into existence by God's creative Word; all of history is a dialogue with God, who speaks to the human heart. It is by listening for the Voice spoken at any given moment, we will be able to tap the very Source of Meaning and realize the unfolding meaning of our lives. You are invited to join us in Lectio Divina and Contemplative Prayer Wednesday, January 12, 2022 at 6:00 PM via Zoom. Simply click on this:

ZOOM LINK




Please join in for The Chosen Movie Night and Interactive Bible Study "What Does It Mean to Be Chosen?" The Chosen is a groundbreaking streaming television series about the life of Jesus. Beginning Friday January 21 we will gather weekly @ 6:00pm for nine weeks (with a pause for Marriage Enrichment Nights). Each week we will share a meal, watch one of eight episodes and have opportunity for small group sharing. Sign Ups will be Sunday, January 9 and 16 after church. Cost is $15 for the Study Guide (scholarships available).


We continue to be amazed by your generosity! Your tithing allows the ministry of PWC to grow and continue. Thank you for your consistent giving. We always ask you to bring your tithing to prayer and ask the Lord to guide you. Here are the different ways you can tithe to PWC:
•

Mail in your gift to: Praise and Worship Center, 2551 N. Arizona Avenue, Chandler, AZ 85225.
•

Sign up for monthly giving with a credit card or voided check. Just call the office at 480-649-0300


Start 2022 by being inspired again and listening to previous sermons from our Sunday services. Go to the PWC Podcast page, here is the link:

PWC Podcasts Page

.


Join the PWC Prayer Team! This is an excellent way to pray and lift up the needs of our community members. Contact Debbie Smith at

[email protected]

for more information or to sign up.


If you are in town, we look forward to seeing you in person on Sunday at 10:00 am. It is so vital we support one another in our Christian faith and gather as a community for worship every Sunday. It is important to remember when Jesus began his public ministry, he brought people together. Jesus realized being a follower of "The Way" would not be easy and we would need the physical and spiritual support of one another as part of a community.


We continue to pray for those suffering from Covid-19 and those who are caring for them.


Love,
Fr. Dale and Pastor Mark
Keep up with all your PWC friends on Facebook
Please do not reply to this email; the sending address is not monitored.
Please reply to:

[email protected]