Happy New Year! We hope 2022 is off to a good start for you, one in which you experience the light of Christ in a new and profound way!


We have an exciting series starting at PWC for children ages four through fifth grade called Kicking with Jesus! Created by our own board member, Michelle Lee, through Lee's ATA Martial Arts, Kicking with Jesus is designed for kids to learn self-defense, break boards, kick targets, and praise God! We will get our bodies moving and have fun kicking with Jesus! Here are the dates: Sundays, January 9, 16, 23, 30, and February 6 from 9:30 am to 10:30 am. No registration needed, just show up! You are welcome to bring a friend! At 10:30 am the children will be brought to the church for the rest of our Sunday service. Parents, grandparents, aunts and uncles, get your young people to Kicking With Jesus! Please see the flyer for more information: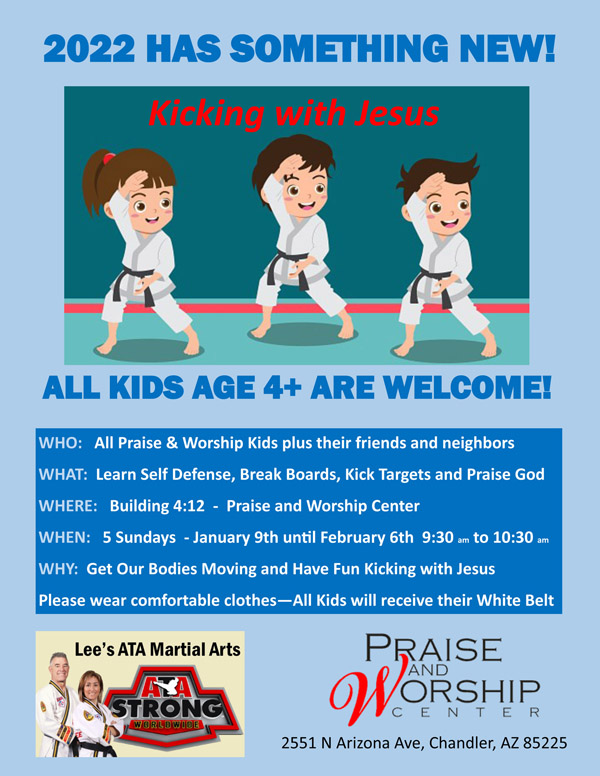 Mark your calendar for The Joyce Bailey Concert on Monday, January 17, Martin Luther King Day at 7:00 pm here in the Church. It promises to be an inspirational evening. You are most welcome to invite your friends! Joyce is also looking for people to join the choir for the concert. Please call the PWC office at 480-649-0300 to sign up!


We have lots going on at PWC in January, check out our

PWC Event Calendar

. If your health permits, we would love to see you get back involved at PWC.


Thank you to all those who were involved in our Christmas services! It was absolutely uplifting and a blessing! From our musicians and singers to our environment crew, our AV and TV guys, to those greeting at the doors, those setting up Christmas cookies and coffee, and our clean-up crew, thank you for ministering! You truly are the light of Christ!


Do you need a PWC name tag? You can sign up for a name tag on Sunday morning in the office or email Sandy Thiernau at

[email protected]

. If you have a PWC name tag, we encourage you to wear your name tag so you will get to know the names of others in our PWC community.


In the biblical vision, all things are brought into existence by God's creative Word; all of history is a dialogue with God, who speaks to the human heart. It is by listening for the Voice spoken at any given moment, we will be able to tap the very Source of Meaning and realize the unfolding meaning of our lives. You are invited to join us in Lectio Divina and Contemplative Prayer Wednesday, January 12, 2022 at 6:00 PM via Zoom. Simply click on this:

ZOOM LINK




Please join in for The Chosen Movie Night and Interactive Bible Study "What Does It Mean to Be Chosen?" The Chosen is a groundbreaking streaming television series about the life of Jesus. Beginning Friday January 21 we will gather weekly @ 6:00pm for nine weeks (with a pause for Marriage Enrichment Nights). Each week we will share a meal, watch one of eight episodes and have opportunity for small group sharing. Sign Ups will be Sunday, January 9 and 16 after church. Cost is $15 for the Study Guide (scholarships available).


Our weekly reflections are back after a break in Advent:

Weekly Reflections Page

. This week Deacon Cheryl Armstrong shares her insights and next week we will hear from Sandy Thiernau.


We continue to be amazed by your generosity! Your tithing allows the ministry of PWC to growth and continue. Thank you for your consistent giving. We always ask you to bring your tithing to prayer and ask the Lord to guide you. Here are the different ways you can tithe to PWC:
•

Mail in your gift to: Praise and Worship Center, 2551 N. Arizona Avenue, Chandler, AZ 85225.
•

Sign up for monthly giving with a credit card or voided check. Just call the office at 480-649-0300


Are you in need of pastoral counseling? Fr. Mike Lessard is available Monday and Wednesday mornings. Please call the office at 480-649-0300 to schedule an appointment.


We want to pray for you! PWC has a prayer chain committee who will lift you and your loved ones in prayer. Please go to our prayer website:

PWC Prayer Request Form

.


Start 2022 by being inspired again and listening to previous sermons from our Sunday services. Go to the PWC Podcast page, here is the link:

PWC podcast page

.


Are you homebound? If so, Deacon John Null can bring you communion. The only exception is if you have or are recovering from Covid. The best way to get in touch with Deacon John is by contacting the church office, at 480-649-0300, and leaving a message.


If you are sick and in need of meals while you are sick, Dawn Paschke, Deacon Dennis' wife, will be coordinating this ministry. To leave a message for Dawn, please call the church office at 480-649-0300.


As we begin 2022, a reflection from Henri Nouwen: Born to Reconcile:
If you dare to believe that you are beloved before you are born, you may suddenly realize that your life is very, very special. You become conscious that you were sent here just for a short time, for twenty, forty, or eighty years, to discover and believe that you are a beloved child of God. The length of time doesn't matter. You are sent into this world to believe in yourself as God's chosen one and then to help your brothers and sisters know that they are also Beloved Sons and Daughters of God who belong together. You're sent into this world to be a people of reconciliation. You are sent to heal, to break down the walls between you and your neighbors, locally, nationally, and globally. Before all distinctions, the separations, and the walls built on foundations of fear, there was a unity in the mind and heart of God. Out of that unity, you are sent into this world for a little while to claim that you and every other human being belongs to the same God of Love who lives from eternity to eternity.
Peace and blessings 2022!
Love,
Fr. Dale and Pastor Mark
Keep up with all your PWC friends on Facebook
Please do not reply to this email; the sending address is not monitored.
Please reply to:

[email protected]